v8meetings.nl
15/09/2017 @ 0:09
Quartermile Dragracing
ENGLISH BELOW

Beste Deelnemers en contacten,

NOG MAAR 25 DEELNEMERS, EN DE RACE IS ON!!!


Als organisatie van Quartermile Dragracing Nederland willen wij al onze trouwe deelnemers bedanken, dit voor uw vertrouwen en ondersteuning aan onze organisatie en de Nederlandse Dragrace sport de afgelopen 4 seizoenen. Ook nu weer tonen jullie doormiddel van de nodige inzet en hart voor de sport dat jullie eind September op Drachten willen racen. Dit doet ons als organisatie goed, en zijn wij in overleg gegaan om mogelijke oplossingen te vinden voor eind september. Helaas moeten wij concluderen dat er ook Nederlandse deelnemers zijn die het door persoonlijke redenen nogmaals laten afweten en hiermee de rug naar het Nederlandse Dragracen toekeren.


Als Organisatie baard het ons zorgen dat op deze wijze de professionele manier van Dragracen in Nederland geen levensvatbaarheid meer zal hebben.

Zoals gecommuniceerd is er om een goede rijders event te organiseren een bedrag van €48.000 nodig. Wij hebben als organisatie aangegeven dat wanneer de rijders een bedrag van €40.000 genereren, wij een bedrag van €8.000 mee zullen betalen.

Zoals u op onze site heeft kunnen volgen zijn er op het moment 45 aanmeldingen, waarvan nog niet alle betalingen binnen zijn. Wanneer wij van de 45 deelnemers alle betaling binnen hebben komen wij uit op €18.000. Hiermee komen wij €22.000 te kort om het event te organiseren.

Als organisatie willen wij onze loyale rijders en supporters dankbaar zijn en een hart onder de riem steken, door het event op alle mogelijke manieren proberen door te laten gaan. Tevens willen wij hiermee aan jullie tonen hoe dankbaar wij zijn voor allen die een hart heeft voor onze organisatie en de sport.

Na een interne overleg vandaag, het volgende.
Wij hebben alsnog besloten om als organisaties een groter bedrag bij te leggen om het event door te laten gaan. Het is voor ons niet mogelijk om de volledige investering van €22.000 te doen, maar wel een extra bedrag van €12.000. (dit boven de eerder afgesproken bedrag van €8.000). Dit betekend dat wij als Organisatie een totale bedrag €20.000 gaan aanvullen.

Wat betekend dit?
Dat er nog maar 25 deelnemers nodig zijn, en we gaan racen.
Bij 70 betaalde deelnemers is er een bedrag van €28.000 ontvangen. Met de €12.000 extra inzet vanuit de organisatie, komen wij op de nodige €40.000.
Dit is dan 30 deelnemers minder dan de afgesproken 100 die er nodig waren.

Belangrijk!!!
Als organisatie moeten wij in verband met alle werkzaamheden, bestellingen en planning niet later dan vrijdag 15 september om 16:00 een beslissing nemen of het event doorgaat of niet. Daarom is het van belang dat wij nog voor morgen 16:00, 25 betalende deelnemers realiseren. Morgen om 17:00 zullen wij officieel de uitkomst communiceren.

Wij hopen hiermee het event te kunnen realiseren, een voorzet doen naar 3 kosten dragende evenementen in Drachten in 2018.

Hopelijk tot op Drachten 29 september t/m 1 oktober.

Team Quartermile Dragracing.



======================================================

Dear Participants and Contacts,



JUST 25 PARTICIPANTS MORE, AND THE RACE IS ON !!!



As an organization of Dutch Quartermile Dragracing, we would like to thank all our loyal participants for your trust and support given to our organization and the Dutch Dragracing sport for the past 4 seasons. Now again, you demonstrate the necessary dedication and heart for the sport by showing that you want to race at Drachten this September. This is much appreciated by our organization, and we have been consulting to find possible solutions for the event. Unfortunately, we have concluded that there are various Dutch participants whom for personal reasons wont support the Orangization and therefore turn their backs to the Proffesional Dutch Dragrace events.



As Organization we are worried that in this way, professional Dragracing in the Netherlands will not survive.



As communicated earlier an amount of € 48,000 is required to organize a good drivers event. We have indicated that when the riders generate an amount of € 40,000, we as organizers will add an amount of € 8,000 to support the event.



As seen on our website, there are currently 45 participants, but not yet all payments have been received. When we receive all payment from the 45 participants, we will then have €18,000. This means that we will be € 22,000 short to still organize the event.



As an organization, we want to be grateful to our loyal drivers and supporters and to prove this we trying to let the event take place in every possible way. We also would like to show you how grateful we are to everyone who has a supported our organization and the sport.



After a meeting within the organization today, the following.

We have decided to add a larger amount as organizations to support the event. It is not possible for us to make the full investment of € 22,000, but an additional amount of €12,000. (this extra on top of the € 8,000 previously agreed). This means that we as an Organization will pay a total amount of € 20,000 in the hope to realize the event.



What does this mean?

Only 25 more participants are needed and the race is on.

With a total of 70 paying participants the amount of €28,000 will be realized. With the €12,000 extra commitment from the organization, we get will then generate the required €40,000.

This is 30 participants less then the agreed 100 needed.



Important!!!

As an organization, we must decide whether or not the event will take place no later then Friday September 15 at 16:00. Therefore, it is important that we realize 25 paying participants before tomorrow 16.00. Tomorrow at 17:00 we will officially communicate the outcome. We hope to realize the event, making this a good step towards 3 good events in Drachten in 2018.



Hopefully we meet in Drachten on September 29th till October 1st.



Team Quartermile Dragracing.

24/09/2017 @ 19:10
24 september 2017 gestolen: een rode Lincoln Continental Mark IV uit 1974 met het kenteken 10-DS-SN. https://t.co/w5E1t0daz1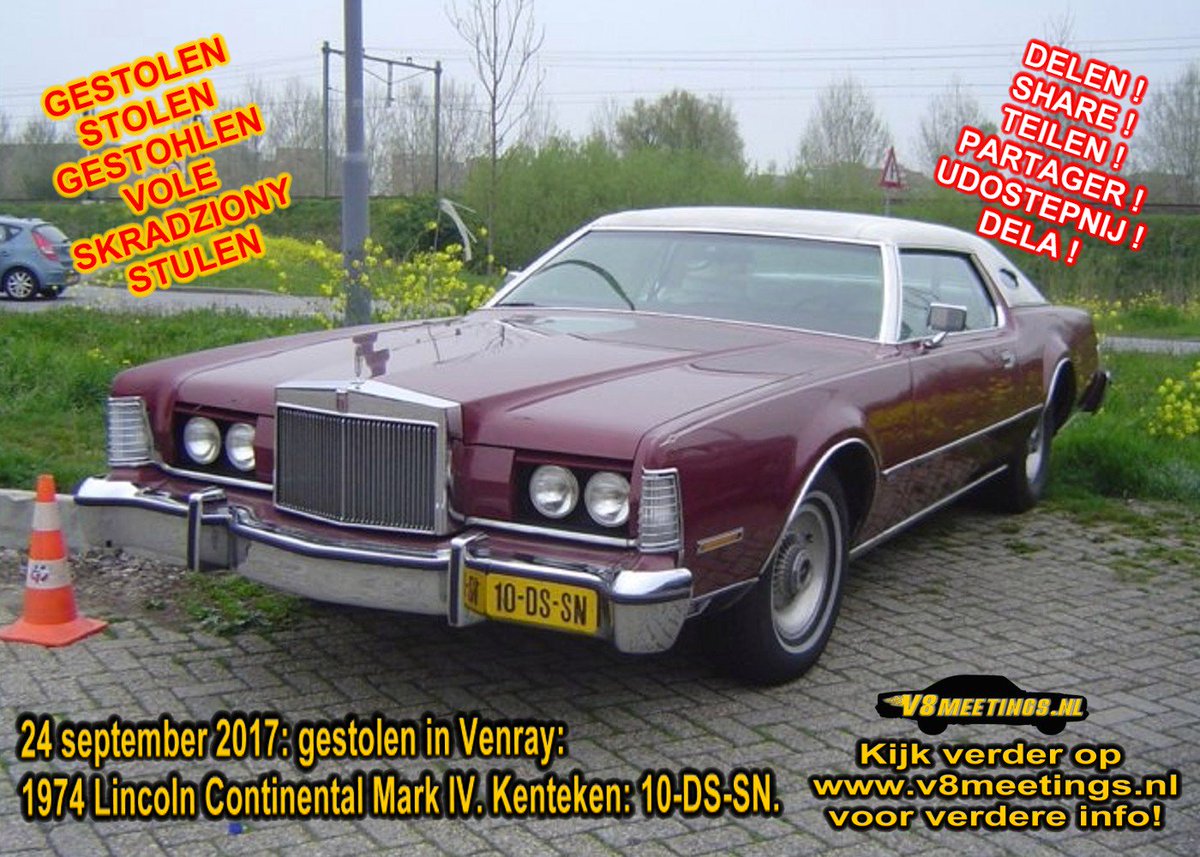 04/06/2017 @ 17:18
TERUG GEVONDEN !!!
En ook deze auto is door het vele delen in korte tijd weer terug gevonden.

02/06/2017 @ 17:13
#Gestolen in #Kwintsheul een 2014 #Dodge RAM 1500, zwart met opvallende striping, dikke spatborden en reclame. Zie https://t.co/qzzFO2pd8w https://t.co/cmwGpODPNL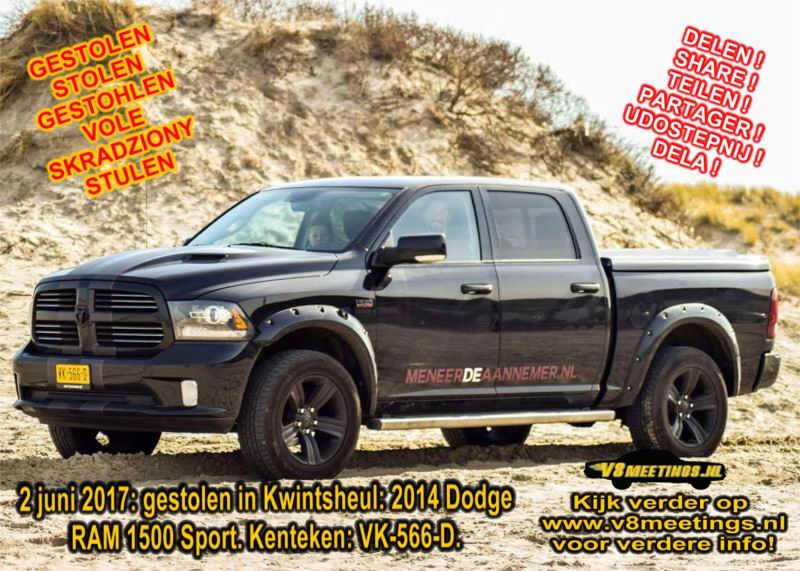 28/04/2017 @ 23:08
v8meetings.nl 10 jaar! Maar al veel langer dan 10 jaar samensteller van meetingagenda's. https://t.co/C1RMt46Y00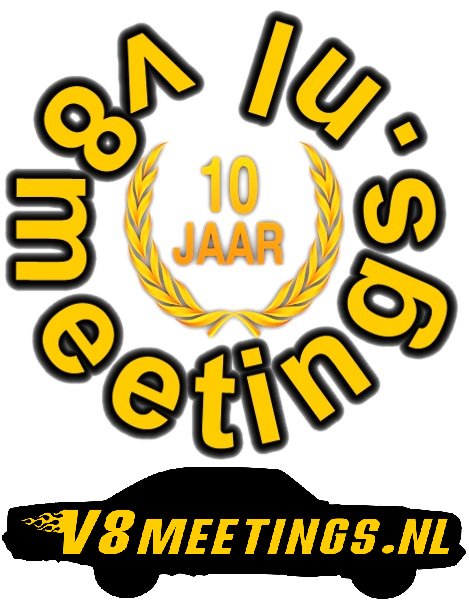 26/04/2017 @ 23:14
PTTM Muscle car performance https://t.co/vM0zfBXdhz https://t.co/nx7WqS1C84