Other mailed Fury's
Do you wan't to sent me pictures of your (Sport) Fury? Please mail them to info@66sportfury.com
The small pictures are thumbnails. Click it for the bigger version of it.

Kristy from BC Canada did sent some pictures of her '65 Sport Fury.

Aileen & Joel's 4-door 1968 Fury II with a 383 ci Commando.


Thank you for your website; very nice. Here is a picture of my 1965 Sports Fury convertible. Dennis, Peoria, Arizona, USA

Kirk's '77 Fury. It is my first project, the car needs work but I think I can work with it.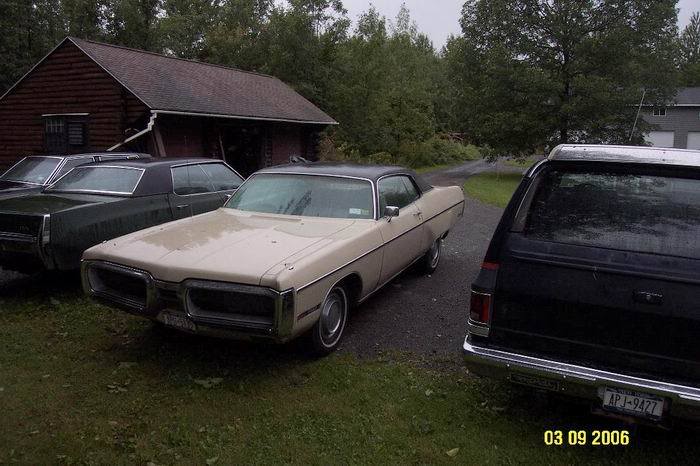 Craig is from the state New York, and this is his '72 Grand Fury 2-dr. It has a 360 cubic inch engine in it with a automatic transmission, He's planning to get a 440 for it and new rear end. His parents got it for $1,000 dollar from my uncle who got it form Texas, he rebuild the engine in it once already and rebuilt the transmission.

This is the project car of Remco from the Netherlands. It has some dents and rust, and he's going to fix that.

Serle from Vernon B.C. Canada and his "Red Shark" on the beach.

Mårten: Hi, mailing some pics of my Fury, which is a 1977 Gran Fury Brougham. Car origins from Luxemburg and was imported to Sweden in 2002, still in great low mileage condition, with only 65000 km on the meter so far. One of only two known 77 Gran Furys here. Regards Mårten Carlsson, Sweden


Christian from Germany bought this 1968 Sport Fury convertible in the Netherlands.

I am sending you some pictures of my 1967 Fury convertible. I am sure that this car is posessed because I never thought that I could love any other mopars than Cuda, Charger or Challenger but this cherrie makes my heart go wild. I hope that this car is good enough to be displayed on your website. (it sure is, JD) Rickard Ek, Sweden

I bought the car (1965 Fury) about 4 years ago and went through every thing but the radio and clock. Had to sell it recently. Fun site. Thanks, John in Lodi California

This is my 1965 Sport fury covertible. It has a 383, 727, power windows, power steering, AM/FM radio, power top. The car has 48,000 miles on it. It has had a paint job. Bought it in 2003, and put new bumpers on it and been driving it to local shows and won many award with it….Mike.

Hey I was just looking through some pics of Furies on your site, and thought I would send a pic of my '65 Fury to you. It's a '65 Fury III convertible,with a 440 ci. It has a manual 727 trans, and an 8 3/4 rear with 3:23 gears. This car is a BLAST to drive! Thanks!! Andy

Hello, I have a 1970 Sport Fury GT, I have owned it since 1980, it has been parked for 18 years now, it has been started and moved a couple of times over the years, and more recently 2 weeks ago. It's now in need of restoration. It has the 440 4bbl and everything that goes along with that. I'm looking forward to seeing it on your site. Thanks in advance, yours sincerly Wesley Northorp

Gerald Priestley from Eganville, Ontario (Canada) owns this 1969 Sport Fury convertible (made in Canada) that his brother found in a barn in Manitoba, last on the road in 1982. That was is 2003 and I have almost completed a full restoration, just completing the interior and some minor details. He had it on the road summer of 2004 for about 3000 miles.

Tom Roue is living in West Virginia and owns a 1965 Fury III, 383 auto. He bought it in Minnesota september 2003 and drove it home to West Virginia. It ran better with every passing mile. No one can tune them better than "Miles" can. It had 91,000 on it when he got it, it just turned 95,000, yeah I drive it!


Jason Johnston's car is a 1965 Sport Fury convertible with power windows, top and drivers seat. It has an am/fm factory radio and a 383 auto trans with buckets and console. I found the car in a junk yard and after a lot of years of working on it I am finally getting her to look great with a new paint job, a very high quality hood scoop and 2 1/2 inch duals with 2 chamber flow masters. He hopes to have "christine" completed by the C-body nationals car show that is scheduled for May 24, 2004 in Kansas City, Kansas.

Carl F. Lingner wrote to me: Here is a picture of my 65 Sport Fury. The car was purchased new by my grandfather. He had died a few years after purchasing it. My grandmother had driven the car as an everyday vehicle. My father had driven the car when home on leave from the Navy. As my grandmother got older she had given the car to my father. He had did the restoration in the early 90's. It was original with a 318, now a 440, 323 rear-end. My father had then let me drive the car while home on leave from the Marine Corps. In March of 2000 my father had given me the car. It has now been through 3 generations of my family. The car has been just a recreational vehicle for about 13 years now. That car gets more complements and offers for purchase than most i have seen. I have included 4 pictures from the 9th of Feb 2003 for you to use on your website if you choose.

This is the 1965 Plymouth Sport Fury of RJ. He is living in France near Montpellier. That is in the south of France near the Mediterranean sea. He bought the car in the north of France and drove it back home…that was about 475 miles… The car has a 318 ci with automatic transmission and has done 50000 miles. The car is repainted and only the wheels are not original.

Steve´s 65 Fury III. It has a 318, that runs good. Pretty much a "driver"….. not a show car, he says.

Martin Riegler´s 1965 Plymouth Sport Fury.  It has a 383 engine with an automatic transmission. Not original are the wheels, paint, ignition and the exhaust. Except for in the wintermonth, it´s his daily driver.

Bruce Alexander from Running Springs in California (USA) owns 3 Fury´s. Here owns a red ´65 Sport Fury. It has a 413 ci and a 391 sure grip. The black one is a ´66 Fury VIP, his first love and he owns it now for 16 years. It has a 383 ci 2×4 carbs (dealer installed when new) 323 sure grip, police police suspention, brakes and cooling system. With 120.000 miles she will still do 135 mph. The white one is a Sport Fury from 1965. It was owned by an old lady and has 140.000 miles on the tach. It has a 383 ci.


This is the 1964 Plymouth Sport Fury 383 push button trans with 323 posi of Allan Haines. He´s living in Toronto, Ontario in Canada. Go see more of his car here.

Tim Dellasandro´s 1965 Plymouth Sport Fury. As you can see it is a prize winner!! It has only 55.000 miles on the tach! Original it was a 318 ci and a 2bbl carb. In 2000 he put in a 383 ci with 425 hp and a 727 transmission 2500 stall with 390 gear and 3″ Dynaflow exhaust and a 4 core radiator. More of it: http://www.tandtcomputers.com/sportfury.html
By the way the car is VERY FAST!!


Scott´s 1965 Plymouth Sport Fury convertible. Scott is from Sarasota, Florida in the USA. He is currently doing some major changes to it. The 383 has to go, and he´s going to put a 440 in, bored .030 over w/new aluminum pistons, stage III heads, B1 Intake, Crane offset rockers and 850 cfm Holley w/double pumps, etc. He hopes it will get him 500 HP!! There is also some bodywork that changes. It will get a hoodscoop and rear spoiler too…

Joe Fornwall´s car is an automatic (floor console) with a 383. The car is 90% on the outside (other than the mag wheels). On the inside, he´s missing all of the door trim, the dash pad, and one of the carpet/door trim pieces. The car is in good shape and shows very well. The car has a cam, headers, and a Edelbrock carb.  By the way, for $20,000, it's yours! O yeah! The car is in Michigan.

Here´s a picture of the 1965 Sport Fury of Rob Cowles from Vancouver, Washington. It is an original 383 car but has a 400 big block / 4bbl Carter carb in it currently. Factory tilt wheel, factory electric seats, factory tach (recently rebuilt / restored). Everthing works great.

The ´65 Sport Fury of Simon Oderberg. It has a pace car option.

The restored ´65 Sport Fury of John Vanderwoerd. He lives in Ontario, Canada.

Here is the ´63 Sport Fury of Jason from Mission Viejo, California. It has a 727 push button transmission, 3.91 sure grip rear, and a cross ram inducted 426 max wedge motor.

The ´62 Sport Fury of Gary.

Benoît from Quebec (Canada) recently bought a 1970 Plymouth Fury II 4-dr  with a 318ci.

Michiel from the Netherlands bought this 1975 Fury. It's an original LAPD copcar with a 360ci interceptor.

Mark Keller from the United States owns a '69 Fury III convertible with a 340-6pack and 3.23 gears. Sweet!!!

The 1969 Plymouth Sport Fury of Craig Egan. It has a 318ci with a 2bbl in it. Craig is living in Toronto, Canada. The car was also built in Canada.

Elte from the Netherlands owns this 1972 Plymouth Fury III.

Tom Pickard´s 1970 Plymouth Sport Fury. He has made a website about his car. You can see it at www.70sportfury.com. Tom lives in Anchorage Alaska (U.S.A.). The car has a 318ci engine with a 2 barrel carburator. It´s got a 904 transmission.

This 1967 Plymouth Sport Fury was for sale in the Netherlands. The car was bought by Paw Lang from Denmark. The car has a 383 ci Commando engine.

Rodney Adams says: Here is a picture of my ´67 Sport Fury. I just purchased it a couple of months ago for $1800. It had been sitting for 17 years outside. The owner had purchased it in 1968 almost new (5000 mi.) He had recently put a "quick" paint job on it and decided to sell it, some someone with more time could " fix it up " I'm now in the process of restoring it.

Here is the 1969 Fury of Mr. Nitke. It has a 383 4bbl with 335 hp and 435 ft-lbs.

Here´s Vincent´s 1970 Plymouth Fury convertible. He want´s to do a discbrake conversion. Anyone with information how to do that?

Here the 1967 Plymouth Fury I wagon of Marc Penninckx of Belgium, Europe. It has a 225 CI 6 cylinder in-line engine. The car is restored in 1998.

The ´73 Plymouth Sport Fury of Otis from the Netherlands.

Chad´s ´68 Plymouth Fury III with 77,000 original miles and a 318 in it. He´s planning to restore everything to original condition except the paint and the engine. He want to put a 440 in it and paint it black!

Andy´s 1968 Dodge Phoenix. It´s a 4-door pillarless. Over the last two years he did some things……it used to have a 318, but now it's got a 383 ci in it, and he did painted the car white. It used to be blue with a black top. The car has done 190000 miles. Andy lives in Brisbane, Australia.

The 1970 Plymouth Sport Fury of Christian Frei. He´s from Switzerland. He sold it.

This is the 1969 Sport Fury of W.M. Mombarg. He is from the Netherlands. The car is a Formal Hardtop Coupe with a 383 and 330 bhp. There were made 2169 of those.

Roy Hanenburg´s ´75 Fury Sport from Woodstock, Ontario, Canada. The first year of the midsize. He ordered this car in 1975, drove it for 10 years, and then stored it for 15. It required some cosmetic body work and paint and now is nice to drive again.These cars were built in St.Louis Missouri U.S.A. It has an original 400 c.i. engine, factory thermoquad, factory dual exhaust and power window option along with all other standard features of a Fury Sport.

Jake Holloway´s 1970 Plymouth Sport Fury GT. He bought the car in 1983, his first car! He restored it in 92-95 and it was well worth the effort. He recently found out that only 666 were produced.

'71 Sport Fury GT, one of 375 built. It´s dark green with golden stripes. Formerly owned by Russell Spreeman from Indiana. It had the 375 hp 440 and eventually was built up and converted to a 4 speed.

Mike Firestine´s ´69 Fury. He lives in Arizona. At the picture it´s still in it´s original paint.

The ´70 Fury conv. of Paul. It has an 383 with a non original 4bbl. He is the 4th owner of this car.

This car is an ´68 Australian Dodge Phoenix, a rebadged Fury, and as you may have seen, it´s now a pickup.It runs a 318 V8. The car is mid blue, with white painted stripe and "Dodge" lettering. Car is owned by Mark & Pamela Verhaaf in Canada.